Minoru Miki (Composer) Profile <plain carrea>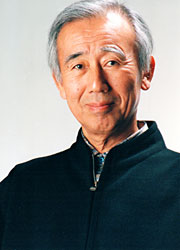 Please Click for Press Photo
Born in Tokushima Japan in 1930. Graduated Tokyo National Univ. of Music.
Completed nine full-length operas along 1600 years Japanese History including
An Actor's Revenge, Joruri, The Tale of Genji, Wakahime
which have English versions. Many orchestral pieces including
Symphony for Two Worlds
,
Memory of the Earth
. Many chamber music pieces like
String Quartet, Marimba Spiritual
and many solo instrumental pieces. Half of them were commissioned from foreign countries, and become international repertory. Wrote many songs, choral pieces, works for Asian & Japanese traditional instrumental world. Well-known cinema music is
Le Empire de sins.
Published the book
Composing Method of Japanese Instrument, Essays during composing the opera <The Tale of Genji>
.
Founded Pro Musica Nipponia, Opera Theatre UTAZA (Miki Opera Company), YUI Ensemble, Orchestra Asia, Aura-J, Asia Ensemble and Hokuto International Music Festival. Won prizes National Grand Prize, Giraud Opera Prize, Purple Ribbon Metal, 20th Fukuoka Asian Culture Prize -specially the first Japanese winner of its Arts & Culture Prize-, Tokushima prefectural Honor Award, etc.
http://www.m-miki.com
---
Minoru Miki (Composer) Profile <Precise>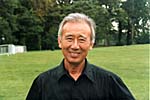 Please Click for Press Photo
Minoru MIKI was born in Tokushima, Japan in 1930 and graduated from Tokyo National University of Music a composition major.
Miki's largest lifework is "Minoru Miki, nine opera series along 1600 years Japanese history". In 1975, he wrote his first opera Shunkin-Sho and won the Giraud Opera Prize. Shunkin-Sho had many productions in Japan, and also performed successfully at the Savonlinna Opera Festival in 1990. In 1979, he wrote next opera An Actor's Revenge, which was commissioned by the English Music Theatre and world premiered in London in English ('81=American, '84=Japanese in Japanese, '87=German premiere in German). In 1985, Miki composed his third opera Joruri, commissioned and premiered by the Opera Theatre of Saint Louis(OLSL) in English for their tenth anniversary season ('88=Japanese premiered by OTSL, '05=Japanese premier in Japanese), thus completing an opera trilogy which treats as its theme Japan's Edo Period. Then, his following serious operas directed their themes toward ancient and medieval ages. 1991's fourth opera Wakahime (English version in 2005) and 1993's fifth opera Shizuka & Yoshitsune were composed as grand operas. 1995's sixth opera The River Sumida / Kusabira was written as a twin chamber opera. His 1999's seventh opera The Tale of Genji, commissioned by the OTSL for their 25th anniversary season, had the world premiere by the theatre in 2000, and its Japanese premiere has done in September 2001 by OTSL. His next eighth opera Ai-en completed in July 2005, which commissioned and world premiered in February 2006 by the Japan's National Opera Theatre (New National Theatre) had European premiere in 2010 in Japanese (German sub-title) by the Heidelberg Theater. By completion of his ninth full-length opera The Happy Pagoda In 2010, "Minoru Miki, nine opera series along 1600 years Japanese history" (since 5th century to 20th century) finally concluded.
In 1986, he founded Uta-Za (2007 will change its name as Miki Opera Company), an opera theatre to create folk-operas like The Monky Poet which won 1990' government prize and performed more than 260 stages, and Yomigaeru, Terute & Oguri. He also created "Karaku" style as narrative-opera like Berodashi Chomma, Tsuru and Visions of Rice.
He also composed a choral opera Toge no mukau ni naniga aruka, Taro, an operetta Husband the Hen, a mini anti-nuclear opera In the Flower Garden, one hour opera The Voice Calling You etc.
His another lifework is "Miki Asian Project". At first he founded Nihon Ongaku Shudan (Pro Musica Nipponia) in 1964 and served as Artistic Director for 20 years, leading the contemporary Japanese instrumental world and producing over 160 performances abroad in his efforts to internationalize traditional Japanese instruments. Among his acclaimed works are Paraphrase After Ancient Japanese Music, Convexity, Four Seasons, Hote, Concerto Requiem, Ki-no-Kane, and many others. His four record phonograph album "The Music of Minoru Miki" took the Grand Prize in Japan's 1970 National Arts Festival.
In a parallel with this movement, Miki invented 20-string koto (two years later became 21-strings) with Keiko Nosaka in 1969. He composed variable pieces for this instrument, but main solo works are Tennyo, Venus in Spring and Autumn, From the East and 20 Ballades for koto solo including Hanayagi (Greening). His next four record album "Minoru Miki- Keiko Nosaka / Music for 20-string koto" won the Prize of Excellence in 1979 Festival.
He composed Kyu-no-Kyoku (Symphony for Two Worlds), commissioned by the Leipzig Gewandhous Orchestra for its bicentennial celebration and world premiered in 1981 conducted by Kurt Masur (American premiered by the New York Philharmonic in 1994). Thus completed Eurasian Trilogy (Jo-no-Kyoku, Ha-no-Kyoku, Kyu-no-Kyoku) which links Japanese instruments with a symphony orchestra.
In 1990, Miki founded Yui Ensemble with both instrumental and vocal soloists who esteem and play his works highly together. In 1993, when Orchestra Asia was founded by Japanese-Chinese-Korean instruments, he was installed as Artistic Director until 2002 and composed Folk Symphony "Den-Den-Den", Loulan as a Dream, Pipa Concerto, Soul 2000 and Rainbow Overture. Its Japanese instrumental section has started independent activities as Aura-J in 1998 under Miki's direction and already had 18 regular concerts. Their repertory is doubling with Nihon Ongaku Shudan but added many new pieces including Miki's Genji Music Tales, Firefly Suite and Hagoromo which co-composed with other Aura-J young composers. Since 1996 Miki is pushing forward high quality projects with Yang Jing, a gifted pipa soloist who is learning composition from him since 1997 when they co-operated on his Pipa Concerto. In his huge orchestral work Memory of the Earth world premiered in 2000 by the Yomiuri Nippon Symphony Orchestra and Asian Soloists including Yang Jing, Reiko Kimura (koto), Seizan Sakata (shakuhachi), Chi Bu-Lag (Mongolian Morinxaur) and I Ketut Sewentra (Bari Gamelan percussion) conducted by Kurt Masur.
Then he founded Asia Ensemble in 2002 organized by the most excellent soloists of each Asian traditional instruments. The ensemble started by Miki's new piece Origin for Erfu, Shakuhachi, Pipa, Koto and Da-Sanxian, and in each autumn had concert tours in Japan. Miki's seventh creation as new project or group was Hokuto International Music Festival (HIMF) which organized in late August of 2006 at south slope of Yatsugadake Mountain under Miki's aim "East & West balanced music world". Each year he will invite excellent Western soloists and an ensemble as well as Asia Ensemble and Aura-J, Yui Ensemble to try new co-operations.
Miki's international repertory includes other compositions for orchestra, like Symphony from Life, Marimba Concerto, Beijing Requiem, Z Concerto, Mai, a full-length ballet music From the Land of light, as well as chamber works such as String Quartet, Piano Trio, Autumn Fantasy , East ark,
Miki is one of the most famous composer in the international percussion society by his marimba-percussion works like Time for Marimba, Marimba Spiritual and concerto pieces. Specially Marimba Spiritual has played thousands times in Europe and US, and also produced hundred more CDs. In 2005 he composed Z Conversion for eight percussion players. In November 2006, an interesting concert titled "New & unknown Miki pieces" at PASIC (US Percussive Arts Society International Convention) '06 in Austin, Texas will introduce Miki' six marimba-percussion works including Z Conversion, Yoshitsune & Kincho Daiko, Sohmon Ⅲ, Marim-Dan Dan, Cassiopeia Marimbana, and sell their scores at the booth.

In his young period, he wrote many choral pieces like Requiem, Choral Poem-Awa, Ode to Oceanide, Jodo, Kurudando, Ki-Do-Ai-Raku, Choral Hannya-Sutra, and in relatively recent years composed song collections like Noharauta (21 small songs), Flowers' Story (14 songs).

He also wrote many cinema scores like well-known L'empire de sons.

In 1996, Miki published a book "The Theory of Composing for Japanese Instruments" (Its Chinese translation published in 2000, and English translation will be published soon from the Universal Press in Rochester, US). Also a book "During completion of the opera The tale of Genji " including 60 essays published in 2001, "Minoru Miki, the Road with 21-string Koto" published in 2004.

He awarded the Cultural Prize of Tokushima Prefecture in 1991, an honorable Purple Ribbon Metal from the government in 1994 and the Order of the Rising Sun from the government in 2000. 20th Fukuoka Asian Culture Prize -specially the first Japanese winner of its Arts & Culture Prize-, Tokushima prefectural Honor Award, etc.

Miki retired from the Tokyo College of Music, but still act as a visiting professor of the Shikoku University.